Foreword:
Connecting to a wallet is always the first step for Web3 users to onboard. However, for users who have yet to be immersed in Web3, which is the vast majority of internet users, there is a high entry barrier to connecting to a wallet. Compared to DeFi and NFT transactions, which are more specialized Web3 areas, the decentralization of social behavior is more conducive to mass adoption, because the user data and content are entirely controlled and abused by the current centralized applications, which is making the value of the user's social behavior decrease. Therefore, we launched Connect Email Newbie Villa service with the goal of providing classic Internet user experience, and with the approach of decreasing the barriers for web2 users to enter the Web3 social world.
Enter the Connect Email Newbie Villa
Connect Email, as a Newbie Villa service into the social blockchain Crossbell, provides you with a seamless Web3 migration experience. You only need to follow the familiar email authentication and enter your email password to register a new account. Then you can use that email address and the set password to log into the system.
After the email address is successfully registered, it will be automatically bound to a newly minted Character by the server. . In other words, you'll own a Character that can be used to explore at Crossbell through Connect Email. You can set a nickname for your Character during the registration process.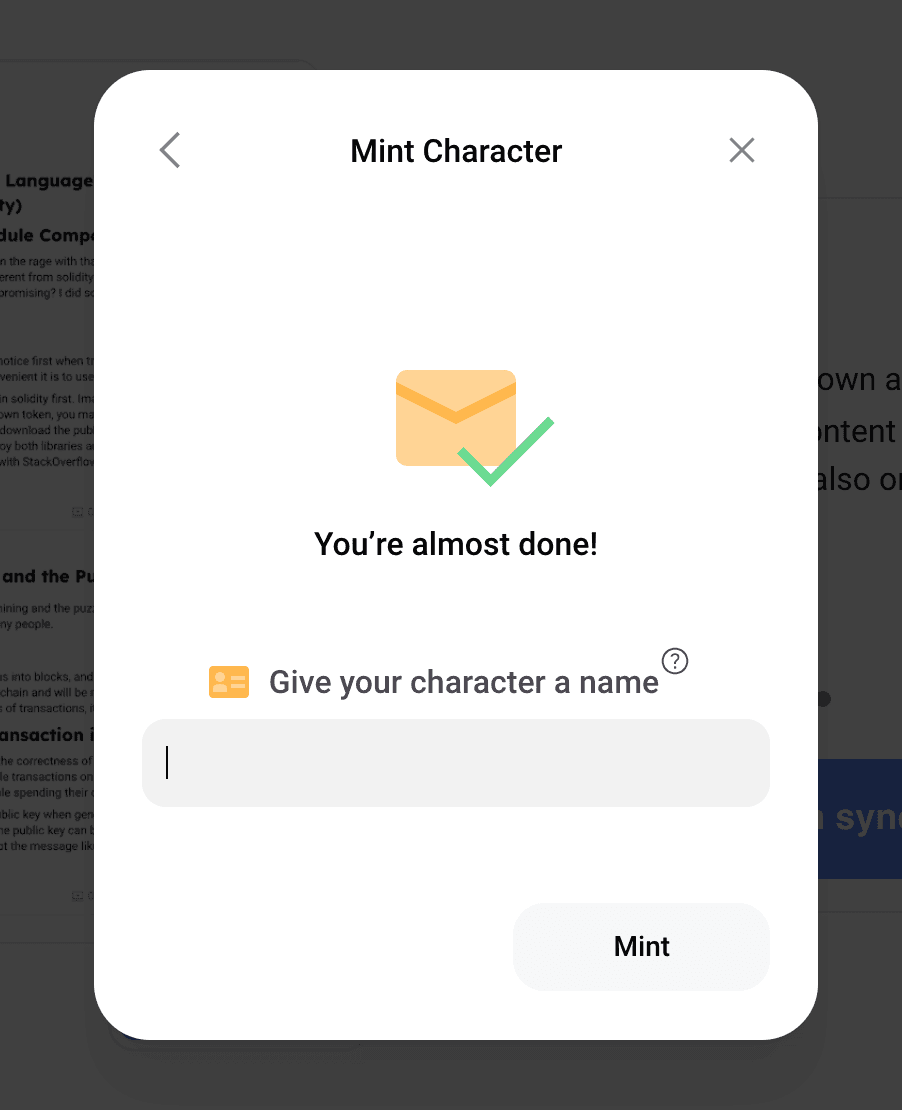 Every time you log in, you will use this Character to interact with others, such as following, liking, and commenting. All these interactions will be recorded on chain. Moreover, since the above interactions are performed by the server proxy, the gas fee will be also paid by the server! This means that all your social contents and behaviors on chain are totally free at the beginning!
Become a Genuine Web3 Social User
As you become more familiar with Connect Email, you must be wondering, is this what Web3 will eventually look like? In addition to getting my social content and behaviors on chain, can I manage my on-chain assets? As you ask these questions, you're taking a solid step toward becoming a genuine Web3 social user.
Next, learn how to create your own address using the browser extension wallet: https://www.youtube.com/results?search_query=how+to+use+metamask, and then claim the Character you've been using before with your wallet address. After this, your Character will no longer be custodial to Newbie Villa.
Then you'll unlock the broader Web3 social world that Crossbell provides, including:
Modify your handle

Modifying the handle is a high-permission action. The Newbie Villa service provider does not have permission to change the handle on behalf of the users logged in with emails, but those logged in with wallets can.

Transfer your Character

Since the email account and the Character are completely bound, the character cannot be transferred within the Newbie Villa. But when your wallet address claims the Character, it becomes your own on-chain asset, and you can send it to any other address.

Mint new asset(Character/Note) to your wallet

Many people have multiple accounts on social media, and it is also possible to have multiple Characters under one wallet address. Mint a new Character is issued by an address. So is to mint a new Note. Therefore, you can mint many Characters and Notes under one wallet address if you want.
At this point, you have become a genuine Web3 social user.
It should also be noted that Crossbell is a social blockchian and all on-chain interactions require a gas fee. But don't worry, to give everyone the opportunity to participate in the decentralization of social, we will provide an equal amount of free $CSB to Connect Email Newbie Villa users and wallet users upon registration. The $CSB you claim is enough to support you to have thousands of interactions with Crossbell network for free.
Afterword
In a nutshell, the Newbie Villa service is a bridge for Web2 users to enter the Web3 world, where you can share the value of data security brought by Web3 without changing any old habits. But only when you actually log in with your wallet will you have ownership of your Character and thus have complete ownership of all the assets created by your interactions on chain.
If this is your first time using crossbell.io and you are unfamiliar with concepts such as wallet and want to explore crossbell.io out of curiosity, we recommend choosing the email login. If you have previously connected to a wallet, minted a Character, or have relatively extensive experience with wallets and on-chain interactions, you can use the wallet login. Of course, if you are interested in the Newbie Villa service, for whatever reason, you can use the email login to experience it at no cost.
However, please note that you can still become a wallet user by claiming the Character back after the email authentication. But after logging in with the wallet, you cannot log in with your email to manage the Character in the previous wallet.
If You Want To Know More Technical Details Behind
To better understand the details behind it, you better have understood the protocols defined on Crossbell. Even if you don't, it doesn't matter. In short, a wallet address can have multiple characters; each character is an NFT; You can post notes through Characters, and different characters can interact with each other, such as "follow", "like", etc.
The mechanism of the Newbie Villa service is that the service provider creates a new character for each registered email account and then maps each email account to this character. All subsequent interactions, such as posting notes and following that sent by users, are executed by the service provider behind.
In particular, the newly created Character is custodial under a Newbie Villa contract, and the agent executing the operation is simply the operator of the Character. The details of this design are explained in CIP-6, which achieves a degree of decentralization by decoupling the transfer and execution rights of the Character hosted behind it.
Newbie Villa Contract:
https://scan.crossbell.io/address/0xbd00936176908E70243e4aeaE20ADe5aDb0422E1/contracts